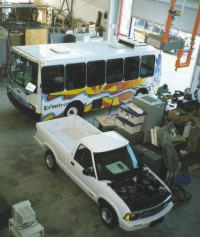 Many alternative fuel vehicle research projects have been conducted at FSEC The following is a sample of the type of projects and reports available.
Testing Capabilities
Vehicle performance and emission testing is available on a closed track or chassis dynomometer. Specifically designed data acquisition systems will collect data for analysis by stationary or onboard systems.
Data Acquisition Systems
Design and installation of data acquisition systems for real-time testing of vehicle and component performance testing is available at FSEC. Stationary and on-board monitoring systems can collect performance data at various speeds. Computer analysis of vehicle design and performance are also available in time-series or summary format. The testing and analysis can be done for electric, hybrid, fuel cell and gaseous fueled vehicles.
Test Parameters:
Power
Currents
Voltages
Temperatures
Vehicle speed, direction and distance
Vehicle attitude
Acceleration (forward and lateral)
Pressures
Flow
Papers
[FSEC-PF-299-96] Efficient Electric Vehicle Lighting Using LEDs
[FSEC-PF-298-96] Electric Vehicles With GPS
[FSEC-PF-285-94] Monitoring Electric Vehicle Performance
[FSEC-PF-272-94] Electric Vehicles Of Yesterday Carry Us Into Tomorrow

[FSEC-PF-238-94] Photovoltaics And The Automobile
[FSEC-CR-993-98] ARPA Efficient Electric Vehicle Lighting
[FSEC-CR-991-98] Monitoring EVs in Florida's Environment
[FSEC-CR-994-98] ARPA Completion of an Electric Hybrid Pickup Truck

[FSEC-CR-992-98] ARPA Southern Electric Vehicle Monitoring Project

[FSEC-CR-996-99] EV's PV Charging Station Tallahassee Government Center

[FSEC-CR-747-94] Testing of a Reduced Weight Power Generation and Air Conditioning Unit to Improve Mobility
For more information contact:

Bill Young
Florida Solar Energy Center
1679 Clearlake Road
Cocoa, FL 32922-5703
321-638-1443