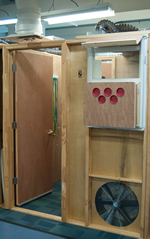 Advanced Blower Door & Pressure Diagnostics
Next Class: May 31, 2013
Cost: $329
Click here to register
Blower door taken to the next level.
Methods for predicting potential for air leakage reduction in floors, walls and ceilings adjacent to buffer zones (attic, crawlspace, attached garage). These methods can help determine whether air-sealing work is needed or completed.

Topic: Automatic Fan Control

Most of us use either the Energy Conservatory DG-700 or Retrotec DM-2 digital micromanometers. These meters have some great, yet under utilized features. For instance, the automatic fan control which allows the digital pressure meter to control the fan speed or flow based on the pressure of "A" channel.

It is very important to understand the significance of field quality assurance. The process on the outside may sound threatening, but it really is a very simple process.
Questions:
1) Is field quality assurance mandatory?
2) Who must have quality assurance performed?
3) Who should be informed of these visits?