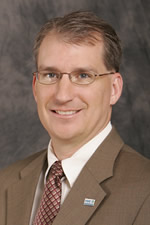 Kevin Noonan
Director of Conservation and Renewables
Orlando Utilities Commission
Kevin Noonan is the Director of Conservation and Renewables for the Orlando Utilities Commission. OUC, The Reliable One, is a municipal electric and water utility serving 250,000 customers in Orlando, St. Cloud, and parts of unincorporated Orange and Osceola counties. He earned his Bachelor of Science degree in Economics from Florida State University in August of 1989, and then a Master of Science degree in Urban & Regional Planning from FSU in April of 1991. Mr. Noonan joined OUC in July of 1994. Prior to joining OUC he worked for the City of Orlando in the Planning Department.
Mr. Noonan has held several positions at OUC including: Special Assistant to the General Manager, Director of Office and Metering Technology, Director of Meter Services, and Director of Residential Customer Service. In his current capacity as Director of Conservation and Renewables, he oversees the personnel, business operations, and customer programs that bring energy and water savings, as well as renewable energy programs, to all of OUC's customers.
Aside from his work at OUC, he is a dedicated Central Florida resident. He is a graduate of Leadership Orlando. Mr. Noonan is a devoted husband and father of three girls and is an active member of his church. He volunteers for several community organizations including the Foundation for Orange County Public Schools and Junior Achievement. On weekends he can be found on the soccer field coaching youth soccer. He has a passion for running and has completed 12 marathons.