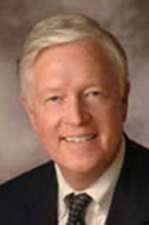 Nicholas C. Gladding, JD
Member, Florida Energy and Climate Commission
Attorney at Law
Adams and Reese, LLP

Mr. Gladding is an attorney with Adams and Reese LLP focusing on environmental counseling, permitting, enforcement defense and litigation. With more than 20 years of experience in 30-plus states and most EPA regions, he has been involved in major civil cases, high-profile criminal investigations, and complex regulatory and dispute resolution proceedings. Mr. Gladding also has been significantly involved in state legislative lobbying in ten states. He has represented numerous Fortune 500 companies as well as smaller businesses and business owners in diverse environmental proceedings.
For the past several years, Mr. Gladding has been representing retailers and property landowners and developers, both nationally and in Florida, with environmental permitting and compliance counseling and with environmental due diligence. He also represents companies with "green" and energy issues. Mr. Gladding is AV® rated by Martindale-Hubbell. In 2009, Governor Crist named him a volunteer "Point of Light" for his work on energy issues.
Mr. Gladding received his Bachelors degree from Yale University, and his Juris Doctorate from Vanderbilt University Law School. While in law school, he was Brief Editor of the Moot Court Executive Board, Note Editor of The Vanderbilt Journal of Transnational Law and recipient of the U.S. Law Week Award. After law school, he served four years in the United States Navy Judge Advocate General's Corps, and for two years he was an instructor of military law and procedure at the U.S. Naval Justice School.
Mr. Gladding is admitted to the Bar in Florida, Missouri and Connecticut. He is a member of the American Bar Association Section of Environment, Energy and Resources; The Florida Bar: Environmental and Land Use Law Section; and the Sarasota County Bar Association. He is also a member of the Board of Directors for the Greater Sarasota Chamber of Commerce, as well as Chair of the Government Issues Council and founding member and former Chair of the Green Business Leadership Committee for the Greater Sarasota Chamber of Commerce. In addition, Mr. Gladding serves as Chair and member of the Board of Directors for The Florida House Foundation of Sarasota, Inc.; founding member, member of Board of Directors, and Chair of Sarasota County Openly Plans for Excellence (SCOPE); member of the Government Relations and Research Committee of the Mote Marine Laboratory Advisory Council; member of the steering committee of the Florida Energy Systems Consortium; and Chair of the Sarasota Bay Estuary Program Citizen Advisory Committee.