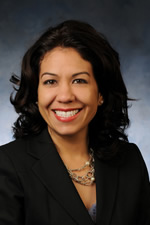 Luz Aviles
Director of Sustainability
OUC
Luz Aviles is the Director of Sustainability for OUC – The Reliable One. She is responsible for providing strategic direction related to Conservation & Renewables products and services; increasing customer awareness and participation in such initiatives; and for developing internal corporate sustainability programs.
Luz joined OUC in 1994. Since then, she has focused on serving the needs of the customers as well as the local community. Her past roles at OUC include director of Customer Connection and manager of Community Relations. She has also served on several boards in various capacities, including the Hispanic Chamber of Commerce of Metro Orlando (treasurer), National Entrepreneur Center (board member), and the Orlando Day Nursery (secretary).
Luz graduated from the University of Central Florida with a bachelor's degree in Business Administration. She obtained her MBA from Crummer Graduate School of Business at Rollins College.
Last Updated 3/20/2014